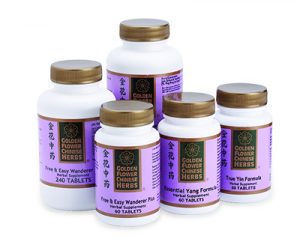 Golden Flower Chinese Herbs has been a steadfast, reliable, and professional product line used in Canada for over 15 years.
Their optimally-extracted formulas offer practitioners potent, high-quality patent remedies that are free of impurities, and appropriate for a wide variety of symptom patterns.
You might not have permission to view herbs.
Practitioners please log in to view.
Support materials:
Golden Flower Chinese Herb Product Guide (free): An informative formula guide that includes cross referencing by traditional Pinyin formula name, symptoms and patterns of disharmony. Golden Flower also produces a Clinical Handbook of Chinese Veterinary Herbal Medicine for Veterinarians – which provides basic information on TCM, Veterinarian application of TCM herbs, dosing for animals, complete product descriptions, and animal symptoms index.
Additional Notes:
Golden Flower Chinese Herbs does not use any animal ingredients in their products, so it is an excellent choice for people with restricted diets, ie. vegetarians or vegans.
Golden Flower Practitioner Resources:
PDF downloadable Product Guide
Library of Articles and Product Monographs
Golden Flower Superhero details