Booster LightSaber with Smart Hit Technology.
The Booster LightSaber will become your new clinic's best friend. This beautifully designed massage gun utilizes the latest technology, to create a dynamic facial release tool. The super fast pulsations (up to 55 per second!) has all the following benefits:
Increased blood flow – With the application of the pulsations, pressure and movement during treatment results in increasing blood flow in the congested area. From our experience as acupuncture and TCM practitioners, we know that increased blood flow in one area can have a global effect on blood flow in the entire body. Which makes this benefit have a double effect!
Increased local temperature – Rapid friction generates heat. The booster massage gun at its highest setting creates local warmth which also improves blood flow in the region.
Relaxation of local tissues – Peripheral nerve stimulation generated by the pulsations of the Booster LightSaber stimulates the Central Nervous System to switch from a sympathetic state to a parasympathetic state resulting in reduced breathing rate, lower BP, and the relaxation of tension in muscle tissues.
Improved lymph circulation – Pulsations from the Booster LightSaber generate a wave-like phenomenon in the tissues that assists in metabolic waste being removed through an enhanced lymph circulation powered by the rapid ripple movement in the tissues.
Increase ROM and improved flexibility – Practitioners can also use the Booster Light Saber while the patient is performing a range of motion movements in the area of treatment. The fascial stimulation generated through the incredibly fast percussions, helps to elongate muscle fibers. Results?… improvement in ROM and flexibility!
There are multiple ways this device can be incorporated into your practice depending on your style. We suggest for MSK acupuncture treatments use the finger attachment to perform targeted, high-velocity acupressure on acupuncture points distally to the affected zone, then use one of the other attachments to treat and release the zone of pain or tightness. After the Booster LightSaber massage, insert needles per your treatment protocol and then end with massage cupping to decompress tissues and help with the final resolution of stagnation in the area.
The Booster Light Saber comes with:
3 Different Wave Pattern Modes
5 Scientifically Studied Speeds (900 – 3300 Strokes/Min)
6+ Hours Of Battery Life
45 dB Sound Level (Ultra Silent)
Extended Handle For Extra Reach
Controls
The Power Button controls both speed and wave settings. After turning on, each click will increase the speed. To control wave settings hold the power button for 3+ seconds.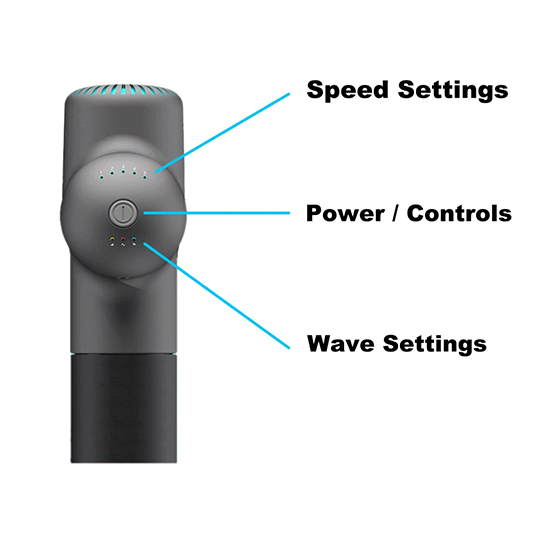 What's Included?
1 x Smart Booster LightSaber
1 x Removable 24v Lithium-ion Battery With Digital Power % Display
1 x Durable Carrying Case
6 x Unique Attachments
1 x User Manual