Practitioners, please ensure you are logged in to view wholesale prices.
NPN 80090960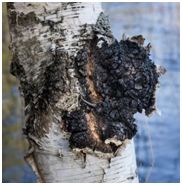 Chaga is rich in antioxidants, and supports immune function, liver health, brain health and increases longevity. It is also know for its ability to boost digestion and clear skin.
Chaga or Inonotus obliquus, which is commonly referred to as a mushroom is actually a highly prized sclerotium or woody canker that grows in the colder regions of the Northern Hemisphere on birch trees. First medicinal uses seem to have come out of Russia around the 16th century when used as a tea to treat stomach ailments*. After 1966, Chaga gained more exposure after its healing powers were written about in Alexander Solzhenitsyn's book, Cancer Ward. As Chaga grows primarily on birch trees and much of the sclerotium itself is actually wood fiber and not mycelium, many medicinal compounds from birch like betulin and betulinic acid end up in the sclerotium. The outer black layer on the canker contains high amounts of melanin which can be beneficial for our skin*.
Until recently Chaga could not be cultivated but now in Finland they are inoculating birch trees with this fungus. Lab cultivated Chaga does not develop in to sclerotium and as it does not grow on birch but on grain, it does not contain the important medicinal compounds that come from birch.
The Real Mushroom Siberian Chaga extract is wild harvested from Russia, and tested by 3rd party laboratories for the active compounds beta-D-glucans that are quintessential nutrients for the immune system..
Dosage: ½ or 1 gram per day or as recommended by your practitioner.
Pet Friendly: Use as directed by your Veterinarian
Additional Information:
Hot water extracted from 100% Siberian Chaga sclerotium
Still contains all non-water soluble components
Certified Organic Ingredients
Gluten-Free, Non-GMO, Vegan
>8% Beta-glucans, <5% Starch
No added starch, mycelium, or grain of any kind
Verified for quality at accredited 3rd party labs
Servings per Pouch: 60
Amount Per Serving
Chaga Sclerotia Extract#± (Inonotus obliquus)     1000mg
Beta-D-glucans                                                              >8%
Starch                                                                              <5%
# = certified organic     ± = hot water extract   Percent of daily value not established
*Disclaimer: The statements made on this page are based on traditional use and modern research. They have however, not been validated conclusively by Health Authorities. Any of the Real Mushroom products mentioned are not intended to diagnose, treat, cure, or prevent any disease. The information presented on this page is intended for educational purposes. If you are a retail consumer, please consult your doctor or health practitioner for any medical advice.