Practitioners, please ensure you are logged in to view wholesale prices.
NPN 80091143
Species name: Hericium erinaceus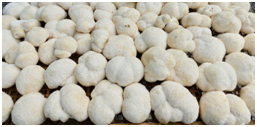 Lion's Mane is known for supporting healthy brain function. It is rich in a multitude of important compound: beta-glucans, which are responsible for antitumor growth, immuno-modulating antioxidants and neuro-protective chemicals*.
Oxidative stress, which these compounds protect against, is closely related to the pathogenesis of neurodegenerative disorders, such as Alzheimer's and Parkinson's disease. Nerve Growth Factor (NGF) synthesis in nerve cells may be induced by certain compounds (hericenones and erinacines) found in Hericium erinaceus, thus making Lion's Mane an amazing helper with the development and function of nerves because of its neurotrophic factors.
Lion's Mane, is a species of mushroom that is beautiful in appearance, it has long cascading shaggy spines resembling a waterfall. Lion's Mane grows on the trunks of hardwood trees in Northern forests and has been used in TCM (Traditional Chinese Medicine) for millennia and has become a well-established candidate in promoting positive cognitive function.
Dosage: two capsules any time during the day for an extended period to notice effects or as recommended by practitioner.
Pet Friendly: Use as directed by your Veterinarian
Additional Information:
Hot water extracted from 100% Lion's Mane mushrooms
Still contains all non-water soluble components
Certified Organic ingredients
Gluten-Free, Non-GMO, Vegan
>25% Beta-glucans, <5% Starch
No added starch, mycelium, or grain of any kind
500mg capsules – 120 capsules per bottle
Verified for quality at accredited 3rd party labs
Serving Size: 2 capsules                 Servings per Bottle: 60
Amount Per Serving
Lion's Mane Mushroom Extract#± (Hericium erinaceus)              1000mg
Beta-D-glucans                                                                         >25%
Starch                                                                                       <5%
Other ingredients: Hypromellose (vegetable capsule), silicon dioxide, microcrystalline cellulose, may contain stearic acid
# = certified organic   ± = hot water extract  Percent of daily value not established
*Disclaimer: The statements made on this page are based on traditional use and modern research. They have however, not been validated conclusively by Health Authorities. Any of the Real Mushroom products mentioned are not intended to diagnose, treat, cure, or prevent any disease. The information presented on this page is intended for educational purposes. If you are a retail consumer, please consult your doctor or health practitioner for any medical advice.