Practitioners, please ensure you are logged in to view wholesale prices.
NPN 80089964
Reishi contains polysaccharides that are associated with immune functions, and if taken over time can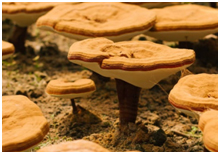 significantly support the immune system*. It is also known to improve sleep, reduce stress and fatigue*.
Reishi or Ganoderma lingzhi, has been recorded for its use for around 2000 years. Most notably used in China by Taoist monks to promote calmness, as well as enhance their meditative practices. It has even been used by Chinese royalty who sought longevity and held Reishi or "the mushroom of immortality" in high esteem. Reishi was listed the most cherished among the superior herbs, that are considered to prolong life, prevent aging, boost qi, and make the body light.
The Real Mushrooms Reishi 415 ensures that their reishi products are made from the mushroom (fruiting body) and contain higher levels of the medicinal compound beta-d-glucans, triterpenes and NO grain fillers, unlike other reishi products on the market. One way to identify the purity of a reishi product is the dark colour and bitter taste.
Dosage: two capsules any time during the day for an extended period to notice effects or as recommended by practitioner.
Pet Friendly: Use as directed by your Veterinarian
Additional Information:
Made from 100% organic reishi mushrooms
Extracted with hot water and alcohol (dual extraction)
Certified Organic ingredients
Gluten-Free, Non-GMO, Vegan
>15% Beta-glucans, >4% Triterpenes, <5% Starch
No added starch, mycelium, or grain of any kind
500mg capsules – 200 capsules per bottle
Verified for quality at accredited 3rd party lab
Serving Size: 2 capsules         Servings per container: 100
Amount Per Serving
Reishi Mushroom Extract#† (Ganoderma lucidum)  1000mg
Beta-D-glucans                                                                  >15%
Triterpenes                                                                         >4%
Starch                                                                                  <5%
Other ingredients: Hypromellose (vegetable capsule), silicon dioxide, microcrystalline cellulose, may contain stearic acid
# = certified organic † = hot water / alcohol extract Percent of daily value not established
*Disclaimer: The statements made on this page are based on traditional use and modern research. They have however, not been validated conclusively by Health Authorities. Any of the Real Mushroom products mentioned are not intended to diagnose, treat, cure, or prevent any disease. The information presented on this page is intended for educational purposes. If you are a retail consumer, please consult your doctor or health practitioner for any medical advice.