The Element TDP Lamp CQ-29 is different from conventional infrared lamps and microwave therapeutic devices.
It features a round plate coated with a proprietary mineral formation consisting of 33 elements essential to the human body. When activated by a built-in electric heating element, this mineral plate emits a special band of electromagnetic waves ranging from 2 to 25 microns at an intensity that coincides with the wavelengths and intensity of the electromagnetic waves released by a human body, and are consequently absorbed by the body. This selective absorption of electromagnetic energy has been found to yield therapeutic effects on the human body.
Features include: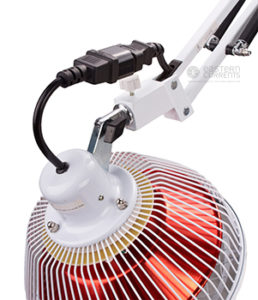 Detachable head – simply unplug the cord that connects the head and main frame when replacing

Mineral Formation emission plate is larger in diameter (for greater coverage)
More Minerals on the Plate (With 33 Minerals)
Wide Dispersion Angle Head Configuration
Long-life Mineral Formation Plate (Up to 1000 Hrs)
Faster Preheating Time
Durable base with casters
Arm System is Designed with 4 Vacuum Arm Supports
Can be adjusted to any position
Start and pause button. Reset button for time reset
Main Switch Power ON/OFF
Technical Specifications:
Spectrum Range:  2 ~ 25 Microns
Power Supply: 110V
Power Consumption: <= 250W
Dimensions After Assembly: Minimum height with arm bent down: 50″ / 127 cm, fully extended height with arm straight up: 70″ / 179 cm, Head diameter: 7.5″ / 19 cm, base span: 20″ / 50 cm
Azimuth (Head Rotation): 360°
Lifetime of Mineral Plate: 1500 ~ 2000 hours
Diameter of Mineral Plate: 6.6″ / 17 cm
Auto-Timer: four-digit LCD indicator, 0-60 mins
Gross Weight: 19.8 lbs / 9 kg
WARRANTY: 1 year warranty on parts (excluding ceramic heater) and labour (practitioner must cover shipping costs to return item if there is a warranty issue). Warranty does not extend to wear and tear issues.
FREE SHIPPING INCLUDED: This item includes free standard shipping within Canada via Canada Post.
Product may vary slightly from image on website.