Practitioners, please ensure you are logged in to view wholesale prices.
NPN 80090021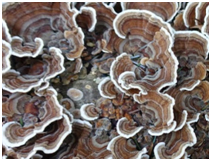 Turkey tail improves immune function by stimulating cytokine production, increasing natural killer cells and other immune boosting functions*.
Turkey Tail mushroom, or Trametes Versicolor, is one of the most well researched medicinal mushrooms. It grows on dead logs worldwide, and receives its name because its rings of brown and tan look like the tail feathers of a turkey. In TCM (traditional Chinese Medicine) turkey tail has been used for treating lung disease, and in Japan, the drug PSK, which is derived from turkey tail has been used to strengthen the immune system when given with standard cancer treatment.
China also has a similar drug called PSP. Turkey tail contains one of the highest amounts of beta-glucans for all mushrooms, which will help keep our immune systems healthy when used over an extended period of time.
Dosage: two capsules any time during the day for an extended period to notice effects or as recommended by practitioner.
Pet Friendly: Use as directed by your Veterinarian
Additional Information:
Hot water extracted from 100% turkey tail mushrooms
USDA Certified Organic
Certified Kosher, Gluten-Free, Non-GMO, Vegan
>30% Beta-glucans, <5% Starch
No added starch, mycelium, or grain of any kind
500mg capsules, 90 capsules per bottle
Verified for quality at accredited 3rd party labs
Serving Size: 2 capsules    Servings per Container: 45
Amount Per Serving
Turkey Tail Mushroom Extract#± (Trametes versicolor)  1000mg
Beta-D-glucans                                                                           >30%
Starch                                                                                           <5%
Other ingredients: Hypromellose (vegetable capsule), silicon dioxide, microcrystalline cellulose, may contain stearic acid
# = certified organic , ± = hot water extract Percent of daily value not established
*Disclaimer: The statements made on this page are based on traditional use and modern research. They have however, not been validated conclusively by Health Authorities. Any of the Real Mushroom products mentioned are not intended to diagnose, treat, cure, or prevent any disease. The information presented on this page is intended for educational purposes. If you are a retail consumer, please consult your doctor or health practitioner for any medical advice.