Octapolar Q magnet
These Octopole Q magnets take the effect of the quadrupole magnet and double it. This large magnet has 8 alternating magnetic fields influencing a large surface area with 3.5 cm of depth. Useful for hip sacra, SI and other larger pain areas. See details below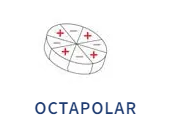 The fluctuating magnetic field has been shown to affect cell membranes of nerves in a very special way. Within minutes of exposures, nerve cell action potential and irritation is reduced. The resulting effect is like taking a fast acting pain reliever that gets better at relieving pain over time. Patients have noticed changes in their pain levels within 15 – 20 minutes. The pain relief increases and continues the longer the magnets are on the affected area. Practitioners can use these magnets as loaners to patients in between treatment seasons or sell to the patient for self-care after their course of treatment is completed.
We recommend using the Q magnets with the Asiamed Nylon Kinesiotape. The tape is smooth, lasts for long time on the body and provides an additional layer of fascial stretch in the region.
Note: The Q magnets have a "flux plate" on one side of the magnet. The flux plate is a barrier that helps  to project the magnetic field downward. In addition, the flux plates are printed with an arrow that when placing the magnet on the affected area the arrow should be facing up towards the patient's head for proper alignment of the filed. The printed side of the magnet is up and facing you when the magnet is applied.
This magnet is great for hips, sacral, and shoulder issues. See below for details of width, thickness and depth of penetration.
45 MGOe (N45) Neodymium Rare Earth
Penetration = 35 mm / 1.4″
Magnet Width = 50 mm / 2″
Magnet Thickness = 3 mm / 0.12″
Pull Force = Pending
Flux Plate attached
Plastic casing
Click Here to Download a Loan agreement Purchase Forms
Click Here to Download a Clinical study on the effectiveness of static magnets
Watch a Q magnets Introduction Video.