The Acubase is a specialized elevated magnetic platform designed specifically to keep your Acufast needles, the Acuclip and your tubes in a safe, contamination free space. The Acubase surface top is where you can place the Acuclip to easily move your needles around the treatment table, or from your clinic countertop to the treatment table. On the Acubase, there are two grooves for clipping your working tube for the patient. We suggest having one Acubase for each size of needles you work with. Doing so makes managing your needles, and tubes (if you use tubes) in a super convenient way.
The Acubase comes with two metal strips with adhesive backing. Simply determine two zones where you would like to park your needles. The first zone is your working space around the treatment table. The second zone is the area where you have your clean field and store your needles, trays and working items between treatments. Here are some examples of where the metal strips can be used:
Zone 1 – the treatment area: <
A wall close to your treatment table
A cart where you have your supplies and move around the treatment table
A tray where you transport your needles and supplies to the treatment table or between treatment rooms. (See images)
Zone 2 – Your stationary clinic countertop:
Place the strip in a designated clean field on your countertop. You can place multiple strips down in the clean field for different sized needles. Arrange the strips such that there is enough space for each size of needle you will be using. (See images) Once the metal strips are placed, remove blue protective cover to reveal shiny metal surface beneath. (See images)
Cautions: 
The Acubase contains strong magnets. While it is highly unlikely, the magnet field could disrupt a pacemaker if it was in direct proximity. For this reason, do not place the Acubase on the chest (front or back) of patients with a pacemaker. The Acubase is safe to use around these patients for all other areas of the body.
When using multiple Acubases together, ensure that bases are placed with at least 3cm (1inch) between each other. If placed too close to each other, the Acubases may strongly attract to each other causing any Acuclips and open packets of needles to be knocked off.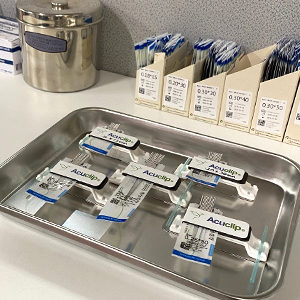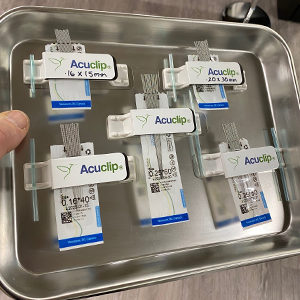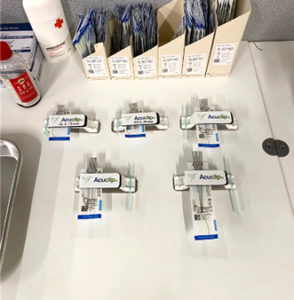 Watch a video on how to set up your clinic with Acufast Needle Accessories.
Watch a video on treating with Acufast needles and Accessories.