Please note we are unable to ship the Premio 32 EVO outside of Canada.
Effective, Light and Ergonomic
Following to the success of the Premio 32, we now introduce the Premio 32 EVO. The peak power has been increased from 40 W to 100 W delivering 2.5 J / 30 sec.A powerful soft laser (5 J/min), ideal for physiotherapy, sports medicine and laser therapy. You can stimulate a point (with the ERP nozzle) or larger volume area. It delivers fast intense local analgesic, regenerative, muscle relaxant action without side effects.
A HIGHER POWER + NOGIER FREQUENCIES = AN EXCEPTIONAL COMBINATION FOR  BIOSTIMULATION !
This wireless infrared laser is ideal for both the consulting room and practitioners on the move. Designed for laser therapies including auricular therapy (features Nogier frequencies), physiotherapy, and sports medicine.
Features:
Three Basic Programmes – Analgesia for inflammation (this pain treatment program (frequencies E and G) reduces transmission of pain information to the central nervous system), Tissue regeneration for accelerating tissue reconstruction, restoring cell functions, accelerates both superficial and deep healing and regeneration processes, and Muscle Relaxation to facilitate the release of tension and spasms.
1 Universal Programme – Nogier Frequency Scanning Nogier frequency scanning programme A-G: successive emission of all of the Nogier frequencies (frequencies A, B, C, D, E, F, and G)
Superpulsed emission: The short impulse bursts are set to the Nogier Frequencies. They deliver an energy of 5 joules per minute with 100W peak power. This 100W peak power impulse mode provides the laser beam with the necessary power to reach as far as the deepest cells
Short treatment time: 30 seconds to 1 minute
Independent Operation for up to 10 hours – rechargeable battery
Includes specific laser key, test laser box, instruction manual, and protective goggles.
Also includes a free copy of the of the book Laser Biostimulation : 12 questions to ask yourself by Patrick Bécu.
Note: the Premio 32 EVO does not switch into a low level frequency mode to allow detection Nogier pulse or  "hidden dental" points.
GUARANTEE
This device is guaranteed for 2 years parts and labour against any manufacturing defect except for parts subject to wear (cables, probes, batteries etc.), for use in accordance with the user guide. This guarantee does not cover in particular damage due to dropping or crushing, emersion in or spillage of liquids or leakage of batteries into the boxes. Small parts are guaranteed for 1 year.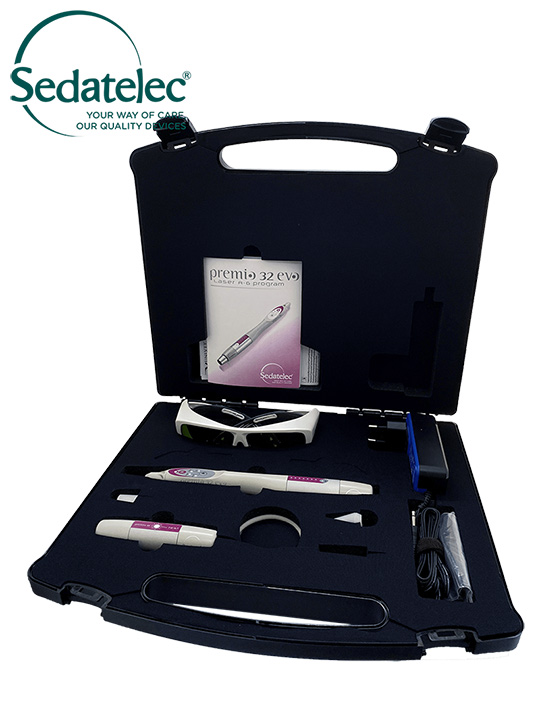 Download Premio 32 EVO brochures